Felted Mitten Ornaments!
I finished all 15 finally. I used the pattern from Knit Stockings, and could probably knit them in my sleep by now. I was able to get through almost 3 in the time of a movie-- not too bad. For half of them I used Patons Classic Wool, but I started running low so I switched over to Elann's Highland Wool for the other half-- it felted nicely, just a tad fuzzier than the Classic Wool. I know the picture sucks, it was hurried as I wanted to package them up to mail them today.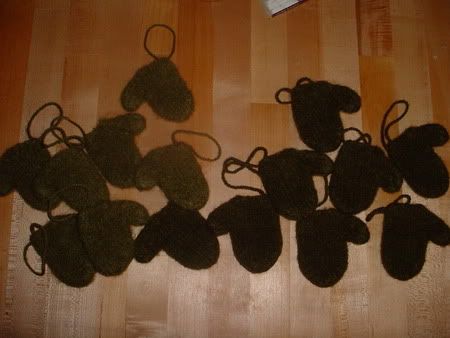 I'm now working on the Cashmere Scarf from Last Minute Knitted Gifts for my dad out of Highland Wool in grey (using size 10 needles and 8 extra stitches). FYI the pattern in the book is wrong, you need to check the errata at purlsoho for the correct pattern.